Microsoft Teams
Miss Butcher, who is a Year 4 teacher, explains here how she uses Microsoft Teams with her class.
Microsoft Teams is a particularly useful tool as it makes sharing resources quick and easy to do. I can quickly and easily send the link to a Forms assessment through Teams, meaning the children can download and complete the assessment in a time-saving manner. Forms assessments are used regularly, and questionnaires are set by class teachers and subject leaders. Using Teams means these can be sent in seconds for the children to download and complete.

Files and videos can also be easily shared in the same way. I can send documents, such as an input Power Point or video for the children to access at their own pace. This is particularly useful for children within my class who have processing difficulties and benefit from accessing a video multiple times. Their independence has also increased as a result of this, as children know to check Teams for any supporting documents to use to help them, before asking an adult for help.

Children in my class are very fond of using Microsoft Sway as a way of presenting their learning. Teams allows me to send the URL to an example Sway for children to use, but more importantly allows children to send their Sways to the Year 4 Channel. Not only does this allow me to review their work for assessment purposes, it also means the children can view other pupils' work and offer feedback. Children find it beneficial to view other children's work and use it to improve their own. Similarly, children can easily attach their work to a Teams message or send it to the Year 4 Channel. From here, I can easily download their completed work to my laptop should I require a hard copy.

'Channels' can be created in Microsoft Teams, to keep documents and messages organised. In year 4, we have a separate channel for maths and English lessons, as well as one for general messages. This makes it much easier for the children to find the document or message they need, without spending unnecessary time scrolling.
I can easily see which children have viewed my messages within Teams, as they can respond to the message or 'react' by choosing one of several Emojis. This allows me to quickly see which children have read a message or accessed a supporting document.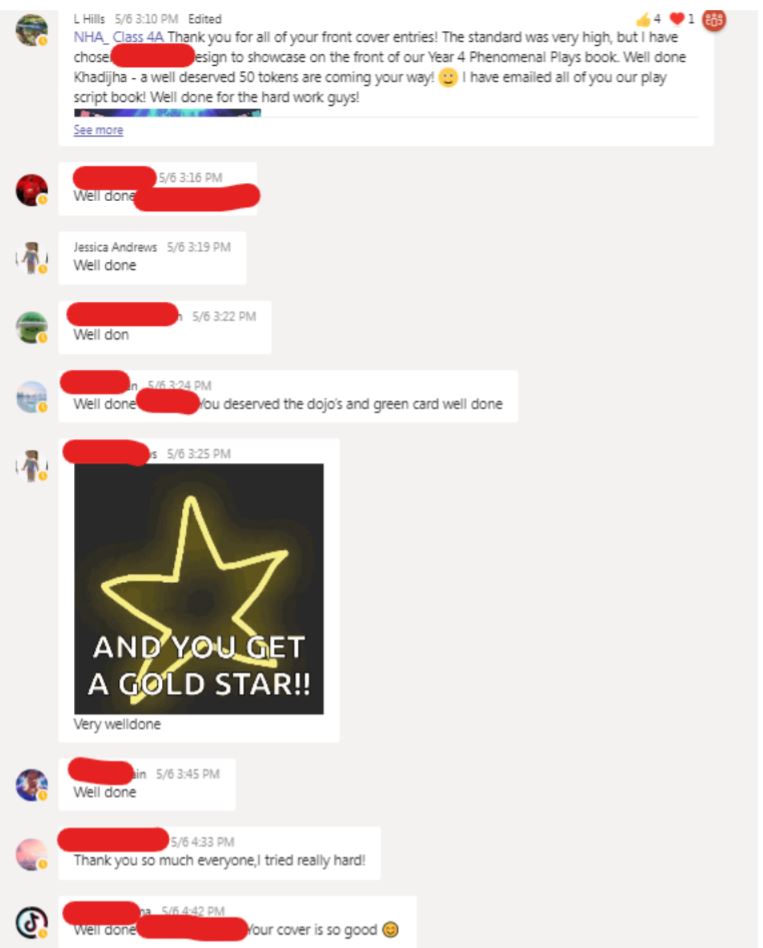 Whilst this is useful within the classroom, it has been invaluable during the school closure period as all communication is now online. Not only can I easily communicate with my class through Teams, but I can also set up a 'live lesson' through the meeting function. A meeting can be created to a specific Channel within the Team, allowing me to teach remotely to all children in my class. I can share my screen, including audio files and interact with my children on a face-to-face basis. Furthermore, the meeting can be recorded for children to view after the lesson to support their independent work. The recording can be downloaded from Microsoft Stream and shared easily through Teams.
Assignments through Teams
Setting assignments through Teams is a highly effective way to share activities with children, especially due to the range of different activities that can be set. I can attach a Word or Power Point document for the children to complete, as well as linking a OneNote page or URL. MakeCode activities can also be set. Due to this range of activities, there is no limit to the different assignments that can be set through Teams, allowing for creative and engaging teaching and learning.
It is also quick and easy to provide feedback through the assignment tab, as a feedback box is provided for teachers to use. Children can view this feedback and edit their work accordingly.
The programme clearly shows which children have handed in their work, making it easy to message children who may need support or have not yet accessed their work. This makes it easy to monitor who is engaging with their learning and track this information.