English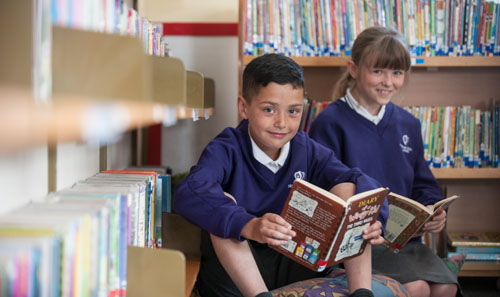 Our English lessons develop pupils' spoken language, reading, writing and grammar and vocabulary. English is taught in a cross-curricular way, linking up with other areas of the curriculum. We teach our pupils to speak clearly, to convey their ideas fluently and confidently and to ask questions. Their vocabulary is developed systematically. Our pupils are encouraged to read for pleasure and to read widely.
We use Read, Write Inc resources to deliver our bespoke phonics programme. Phonic awareness helps the development of reading by segmenting and blending sounds. The children will be heard reading individually and in groups. The guided reading sessions cover both fiction and non-fiction books. Guided reading also develops the children's comprehension skills. Parents are given clear expectations about reading at home.
We develop writing skills so that our pupils have the stamina and ability to write at the age expected standard. To support children in moving towards independent writing we provide a wide range of activities including use of film and imagery, modelled, shared and guided writing, peer editing and discussion. We use talk for writing to encourage pupils to express their ideas, exchange ideas and to develop more sophisticated vocabulary. We provide opportunities for writing for purpose and we encourage pupils to see themselves as authors. We promote the status of written work by providing opportunities for children's writing to be published and read by real audiences. We have a Writing Champions board to celebrate the high standard of writing across the academy.
Handwriting sessions are incorporated into the English lessons. A range of extra activities are used to promote literacy within the school including an annual focus week, World Book Day and author visits.
National Curriculum English Programmes of Study:
https://www.gov.uk/government/publications/national-curriculum-in-england-english-programmes-of-study/national-curriculum-in-england-english-programmes-of-study
Drama
Drama is used as a key tool in developing oral skills, vocabulary development, building confidence and self- esteem, and as an essential tool in developing imaginative, expressive, and persuasive spoken and written language. 'Hot seating', and 'response in role' drama techniques are used in literacy lessons aid the development of speaking and listening, reading and writing skills. Imaginative role play is fundamental to developing the whole child, not just in Early Years and KS1 education, but also as they children develop, and our curriculum provides opportunities to perform to wider audiences through assemblies and events around key festivals. There are increasing opportunities for our pupils to perform as they progress through the school.
Tips for Writing
At the Newark Hill Academy, we use catchy sentence types to help children vary their sentence structures in writing. This runs alongside our grammar teaching so the parts are clearly understood. Here are the sentence types we refer to in order of complexity. Click on the name to watch a video to explain how to build each one.
Noun Phrase
Simile
De:de